How Much Money Is Bet On The Super Bowl?
For proponents of legal NFL betting, it's long been a point of interest to ask how much money is bet on the Super Bowl each year. Estimates by the AGA peg the number at around $5 billion (with average increases of several hundred million dollars each year), but other analysts believe the global haul to be closer to $8 billion. Similarly, American football is estimated to move about $90 billion in total bets each year, although that number seems suspiciously low.
In either case, the money moved on Super Bowl Sunday is significant. Even more significant is the fact that Nevada casinos – the sole storefronts in America where folks can legally place sports bets – only account for about three percent of that haul. The remaining 97 percent, according to industry watchdogs, is placed via legal NFL betting sites like Bovada, BetOnline, SportsBetting, 5Dimes, and others. (This is often characterized by the government and mainstream media as "illegal" sports betting, but that is false. Betting at online sportsbooks is perfectly legal.)
Do More People Bet On The Super Bowl Or The World Cup?
Legal NFL betting might be a US specialty, but it is no longer a uniquely American phenomenon. In fact, broken down by single matchups, the Super Bowl is the most bet-upon sporting event on the planet. Yes, soccer's month-long World Cup moves more money on aggregate, but that tournament totals 64 games played over a month's time. The Super Bowl is one game played over three hours' time. On a by-game basis, no other event comes close. The Super Bowl is king. And it proves once and for all that so-called "American football" is, in fact, the real football.
How Can I Participate In Legal NFL Betting On The Super Bowl?
IF you want to get in on the single biggest spectacle for legal NFL betting, it's easy. You don't even have to live in Las Vegas. Just sign up for free at the legal sports betting site of your choice, load up your account with a few bucks, and check out all the available bets for the big game.
In fact, one of the primary reasons why the Super Bowl is the crown jewel of legal NFL betting (and legal sports betting in general) is because of the sheer variety of wagers available. With a list of proposition bets several pages long, bettors aren't limited to spreads or straight moneylines. Whatever random piece of statistical minutiae you can think up will undoubtedly have its place among the props, which makes legal Super Bowl betting a whole lot more fun – and a whole lot more in-depth – than standard NFL fare.
Has Super Bowl Betting Peaked?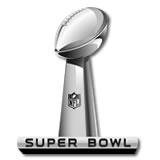 Not even close. Americans spend an estimated $500 billion a year on legal sports betting, with football accounting for about a fifth of all the action. Of that, the Super Bowl represents around 10 percent of the sport's total annual handle, and that number has been growing steadily for years.
With the rising popularity of Bitcoin and the growing governmental acceptance (and even advocacy!) for legal sports betting, there's every reason to think that legal NFL betting – and legal Super Bowl betting in particular – have nowhere to go but up.
You Can Bet On The Super Bowl Right Now!
Did you know that you can bet on the Super Bowl right now? It's true. Whether you're trying to get in some legal NFL betting before the season even starts or you're only interested in making a wager right before the big ballgame, you can be sure that most of the legal sports betting sites will have you covered. Super Bowl betting is on hand year-round, available as everything from long-term futures to last-minute live bets. No sooner does one Super Bowl end than the odds for the next one pop up on the board. Who do you think will win it all this season?
BEST SUPER BOWL SPORTSBOOKS + SPORTS BETTING SITES