Jay Cutler Out Against Struggling Ravens
After getting injured in last week's win over the Jets, the Miami Dolphins' starting quarterback won't be suiting up for Fish's Thursday night tilt against the Ravens. With Jay Cutler out owing to several cracked ribs, the 4-2 Dolphins (third in the AFC East behind the 4-2 Bills and 5-2 Patriots) are +3 underdogs to the struggling Ravens, who are 3-4 and dealing with significant injuries of their own. On the moneyline, the Dolphins have a return of +140, while the Ravens payout is -160. The over/under, at 37.5 points, indicates that bettors think the game will be a reasonably low-scoring affair. Interesting.
On paper, with Jay Cutler out, the Dolphins may look doomed. But I don't believe it. After getting injured in Week 7, Cutler's replacement, Matt Moore, put up two touchdowns, one interception, and 188 yards in a quarter and half, eclipsing Cutler's performance on the day. There is little reason to think Moore will be a notable downgrade from Cutler going forward, at least in the short term. Yes, he hasn't played much over the last six years, but he's not some no-name scrub. Moore is a competent NFL backup.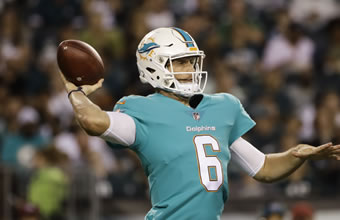 Ultimately, whether or not Jay Cutler remains out for future games is irrelevant. He's out, Moore's in, and the Ravens are NFG. Remember, the safe bet isn't always on the favorite, and Baltimore is about as bad a favorite as you'll see all season. Sure, they could pull out a victory, but Week 8 should kick off with an upset as the Dolphins not only cover the spread but win outright. I'm taking the Fish on the straight moneyline and betting the "over."
BEST LEGAL ONLINE SPORTSBOOKS + SPORTS BETTING SITES