2017-2018 NBA Season Tips Off With A Bang
Or a swish. Or a rim-rattle. Or a no-look alley-oop from three-quarters court. Or a pair of broken ankles off the dribble in iso. Just pick your favorite domineeringly offensive basketball metaphor, and then kick back and enjoy tonight's broadcast of the start of the NBA season.
In the first game of TNT's doubleheader at 8:00 PM, the Cleveland Cavaliers (-165) host the Boston Celtics (+145) in Kyrie Irving's return to Quicken Loans Arena. The 4-point spread speaks to the potential of a close game, but the 213-point over/under says there probably won't be a whole lot of defense to go around. Still, now that Irving's the number-one option again, it'll be interesting to see if he can improve on his 25.2 PPG average from last season. Expect lots of commotion when LeBron James squares up on Irving in man coverage for the first time.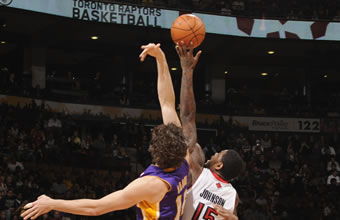 The next game, while not as overtly drama-packed as Irving's homecoming, is likely to be even more of a high-scoring explosion of offense. Tipping off at 10:30 PM, the Houston Rockets (+350) take on the NBA's defending champion Golden State Warriors (-500). It may be business as usual for the Dubs, which means a lot of points, but the Rockets – with new point guard Chris Paul – will have something to prove right out of the gate, and his team has the potential to go blow-for-blow with Curry, Durant, and company. And it certainly doesn't hurt that he'll be dishing the ball to perennial MVP candidate James Harden, who averaged a staggering 29-11-8 last season. The game's 229-point over/under actually seems kind of low.
Between the Celtics vs. the Cavs and the Rockets vs. the Warriors, you probably couldn't ask for a better start to the NBA season. I just wonder what the record is for the most points ever scored in a TNT doubleheader.
BEST LEGAL ONLINE SPORTSBOOKS + SPORTS BETTING SITES