Tiger Woods Looks Like He Could Win Masters
Woods, easily the most iconic and embattled pro golfer of his generation, has been struggling quite publically to regain his stature on the US PGA Tour for years after a disastrous and very public divorce and numerous health problems in the last decade. His woes culminated with partial spinal fusion surgery in April of 2017, and a lengthy recovery period meant he was unable return to active competitive play on the Tour until this January. Calling his early 2018 efforts competitive is a bit of a long shot, as middling results marred the comeback talk, but one legitimate long shot on the 17th hole at the Valspar Championship over the weekend of March 9-11 certainly has people talking.
Talking about what, exactly? Analysts, golf writers and fans of the "Gentleman's Game" are all fairly well solidifying their opinions around the distinct possibility of a Woods upset at the upcoming 2018 edition of the legendary Masters Tournament. Now, whether or not Woods can actually achieve that feat is still largely a matter of speculation, but there is one item that is pretty much beyond dispute on the subject. Only someone with a truly elite level skillset (and plenty of composure, as we will soon discuss) could sink a putt under the pressure Woods had on hole 17 in California last weekend.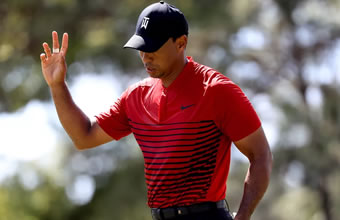 To be frank, Woods did not look particularly stellar in the closing stages of the Valspar Championship. A good first-round showing tapered off come Sunday afternoon, and the 42-year-old struggled through the first 16 holes in spurts, with irons a shade off somehow and putting that was inconsistent at best. All in all it was a bit to the south of "middle of the road" for Woods, who has reportedly been planning out some training tee times in Augusta to get ready for his first Masters Tournament since 2015. That's worth noting, as this is from the guy who never – and we mean never - used to do what most other golfers of his caliber would consider "serious" on-site preparatory work on the links at Augusta National Golf Club.
Nevertheless, Wood's date with destiny moment did arrive on the 17th hole at the Valspar, and, with stoicism like something from a Greek tragedy, he calmly sank the longest putt of the day, a shot of 43 feet, 8 inches, just to be extra exact. PGA.com called the birdie that sent the crowd (and, as is the norm these days, the social media usual suspects) into a tizzy of excitement the "Shot of the Day," and who can really argue with that? Seems to everybody that Tiger is back in business, and all it took was a couple strokes at what is a statistically fairly meaningless warm up tourney for most of the leading participants.
That being said, though Tiger stole the show for the day with his master stroke on the 17th, it was Paul Casey who stole the thunder, winning the $1.7 million grand prize for finishing first in the tournament with a Valspar-best six-under 65 showing to mark his first PGA Tour win in 10 years. Kudos to the Englishman for getting another win after a long draught. Tiger, though he surely would rather have won the whole show himself as he very well stood a shot of doing had he performed a little better earlier in the tournament's final round, can surely empathize with the plight of knowing it has been a good long while since you have stood on top of the winners podium and hoisted a bigger trophy (and cashed out the biggest check).
No matter that Woods didn't win the Valspar Championship – evidently he didn't need to have won the tourney for his odds to land much bigger fish (that of course being the aforementioned Masters, the first of the PGA Tour's four Major Championships and inarguably the richest and arguably the most prestigious tournament in the world). The Vegas odds on Woods winning the 2018 edition of the Masters were something like +1600 on the moneyline (as gleaned from Latvia-based legal offshore sports betting site Bovada), but after the tumultuous and exciting events of the weekend, Tiger's chances shortened considerably. Whereas before he was floating about midway down the betting board around borderline also-rans like Phil Mickelson and Bubba Watson and well beneath today's leading players like Dustin Johnson, Rory McIlroy and Justin Thomas, Woods' looks considerably better on Monday morning.
His moneyline odds available at Bovada shot up to +900, putting him just behind Johnson as the most likely golfer to win, but more than that Woods' Valspar result thoroughly shook up the whole betting situation ahead of the April start for the Masters. By moving into second place on the betting boards – not just at Bovada, but also at Bet365 (which serves international players out of its home base in the United Kingdom), Woods upended the majority of the expected outlook for the tournament. Thomas is now back to +1000 and Jordan Spieth, considered by many knowledgeable fans around the globe as the future face of the sport (like Woods himself was for the better part of a decade) is now in fourth spot with moneyline odds of +1100. Finally, and almost inexplicably, Mickelson has moved into with spot with moneyline odds of +1400, certainly far from bad for a golfer who, while not exactly ancient, isn't the young gun that Spieth or even Johson and Thomas are.
Perhaps even more interesting is the tidbit of data coming out of the golf futures betting section at Bovada and other leading offshore sportsbook sites, as a special betting line on the total number of Major Championships Woods might stand a chance of winning in the 2018 PGA Tour. Just the fact that we are even having the conversation about him winning tournaments, much less a Major (or several) gives sharp sports bettors and fans alike and indication of just how far they think Woods has come since taking most of last year off to recoup from a much needed surgery on his back.
Wood is looking at Bovada moneyline odds of +350 to win at least one of the US PGA Tour's four Major Championships. That's the same as younger golfers that have been more successful more recently like Japanese ace Hideki Matsuyama and ahead of Australian Jason Day, Spain's Jon Rahm, and Americans like Mickelson and Thomas and even ahead of comeback guy Casey himself (who has odds of +900 to do the deed). However, Wood's odds to win a single Major do jump up to +2000 to win two such tournaments and to a stratospheric +20,000 to win three, while four is almost entirely out of the question for any golfer no matter how good they may be – or in Wood's case were.
Whatever the case might be, I think it is fair to say that, win or lose come Augusta, positive results for Tiger Woods – almost a brand unto himself in the world of professional sports – is good for golf and good for sports generally. As recently as last September the man was quoted by ESPN.com as saying that he "wasn't doing anything golf related" and that he "didn't know what the future holds" in the game, and roughly a year before that he depressingly confided to reporters that he had days when he could not even get out of bed. Now he finds himself in a position to sweep the Masters, an event he won five times already, by the way, even if it has been since the middle of the last decade since he did it, yet again and, perhaps more personally significant, an even better chance to win other tournaments throughout the year.
All it took was the will to keep going after living day to day through the pain of recovering from four back surgeries in the last ten years, working on rehabbing the whole time to get himself into position to win his 80th tournament. There were those who doubted what he could do, and there will be those who doubt that he can make win number 80 the Masters (of all things), but the facts are the facts: Woods is in a better place than he has been in years to do so. Personally, our money is on him to do just that, and we think smart bettors would do well for themselves to squirrel away at least a little scratch to put down on Tiger to add to his legacy at Augusta in a month.
We look forward to seeing what the remainder of the 2018 PGA Tour (and the betting odds on the same) have in store for Woods. Sports fans should recognize the possibility of seeing something truly spectacular from the guy most analysts saw as a write-off even a few months ago. It really is something else what a birdie at a fairly minor tournament can do for a man's confidence and for the public's confidence in him.
BEST LEGAL ONLINE SPORTSBOOKS + SPORTS BETTING SITES