The 2018 Kentucky Derby Could Break Records
Even though the Kentucky Derby is one of the few remaining US horse races that continues to increase its handle year after year, horse racing betting as a whole is down substantially over the last decade and a half. That said, there is a very bright light at the end of the shortening tunnel: The 2018 Kentucky Derby could break records, but 2019's will shatter them.
In 2003, $15.2 billion was wagered on horse races across the United States, but that number has dwindled substantially (by nearly 50%, in fact) in the 10 years since. Though there have been small gains across the board for the last few years, the total handle for American horse racing betting is a lot lower than it used to be. However, that is primed to change if and when the Supreme Court overturns the Professional and Amateur Sports Protection Act of 1992 (PASPA).
Granted PASPA does not federally ban horse racing betting (it actually has a specific carve-out for the activity), the wider access to sports betting that any PASPA overturn would produce would undoubtedly bleed over into the horseplayer market. In short, more people would be exposed to a now-normalized sports betting culture, which means more people will naturally gravitate towards one of the most classic forms of the pastime.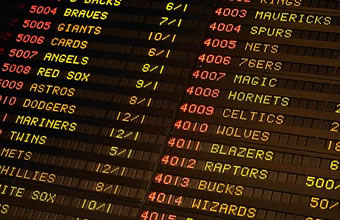 While PASPA's fate will not be decided in time for the 2018 Run for the Roses, it will almost certainly be sealed before this year is out. That means that states nationwide will have plenty of time to retool their gambling offerings, pass betting-friendly regulations of their own, and have at least some rudimentary infrastructure in place to easily accept sports betting and horse racing betting wagers in person and online. By the time next year's Kentucky Derby rolls around (Saturday, May 4, 2019), there's a good chance that placing a bet on the ponies will be as easy as hitting up a McDonald's drive-through in most parts of the country.
Even better, there is plenty of empirical evidence to support this notion of "a rising tide lifts all boats" as applied to the interplay between the sports betting and horse betting industries. Kip Levin, CEO of Paddy Power Betfair US & TVG (a leading simulcast deposit service), points to recent developments in Australia, where punters were legally given access to fixed-odds sports betting. With mobile apps now available to handle those wagers, recreational players were exposed to the entire world of athletics wagering, including horse racing betting. As such, the number of horseplayers in the country increased dramatically. In the UK, there is also good evidence that sports betting boosts horse betting, as wagering on the ponies is second only to gambling on soccer across the pond.
Further, LegalSportsBettingSites.com knows there is this to consider: If and when sports betting is decriminalized federally, the very first places to offer sports betting – on a state-by-state basis – will be those businesses that already offer (or have the immediate ability to offer) such activities. This means that casinos and racetracks (where various table games and slots are largely legal already) will be offering sports betting before anyone else.
And if you're going to go to the horse track to bet on sports, well, you might be inclined to check out the ponies while you're there.
BEST LEGAL ONLINE SPORTSBOOKS + SPORTS BETTING SITES