Bet Now For Saturday's Olympic Medal Events
Because of the massive time difference between the US and PyeongChang, South Korea, it's a good time to bet on Saturday's Olympic Medal events. Friday, after all, will be dominated by the Opening Ceremony, and there will be no medals awarded (even though there will be some preliminary qualifiers in Curling, Moguls, and Figure Skating). The first medal action will take place on Saturday (Friday evening in the US), with the Women's Cross Country Skiathlon, Men's 1500m Short Track Speed Skating, Women's Speed Skating (3000m), Women's Biathlon (7.5km Sprint), and Men's Ski Jump (Normal Hill) all on the docket.
While most of the winners' odds remain unchanged from earlier in the week at legal betting sites, it is important to note that the Men's Ski Jump betting boards at Bovada and Bet365 have been a bit shaken up by the results of today's training rounds. Andreas Wellinger (Germany), who was initially given +1000 odds to win the event, beat defending Gold medalist Kamil Stoch (Poland) in the practice session. While Stoch is still the favorite, his odds fell a bit to +125, but Wellinger shot up to third on the board at +185. Poland's Dawid Kubacki made the biggest gains, however, coming from way down the list to settle in at second with +140 odds to win. Meanwhile, Germany's Richard Freitag went from +300 to +850.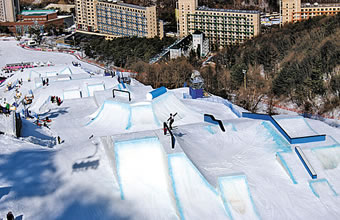 In events that have these kinds of unpublicized qualifiers and practice rounds, it is imperative for the successful Olympics bettor to keep an eye on the news feed coming out of PyeongChang. This isn't the stuff you'll see on ESPN or hear about on the evening news, either. Google is your friend when handicapping the 2018 Winter Olympics betting boards, and it's something you should do several times a day throughout the duration of the Games.
BEST LEGAL ONLINE SPORTSBOOKS + SPORTS BETTING SITES