Bitcoin Drop The Reason Bovada Is Finally Back In New York
Betteridge's Law of Headlines says: "Any headline that ends in a question mark can be answered by the word 'no.'" However, this one might be an exception, as the recent Bitcoin drop could be a compelling reason why Bovada is finally back in New York. After all, Bovada has neglected the New York market over the last couple of years while its competitors in the offshore sports betting space soldiered on and made a killing accepting Empire State customers.
Now, any skeptics of the above premise might simply point to the recent trends nationwide after the US Supreme Court overturned the Professional and Amateur Sports Protection Act (PASPA, 1992) in May 2018 as evidence enough for why Bovada has been emboldened to offer its services in NY once more. And there's certainly merit to that – it may well explain everything. However, consider the Bitcoin angle.
First, of all the 5 or 6 major offshore US sportsbooks that operate legally, Bovada has by far the fewest banking options (which it makes up for with the best betting interface and online experience in the entire industry). For example, Bovada only accepts two kinds of deposits, whereas its competitors all offer upwards of 10 or more ways to fill up your sports betting accounts. At Bovada, you can use a credit card (Visa, Mastercard, AMEX on request) or cryptocurrency (Bitcoin and Bitcoin Cash). That's it. While other sites allow you to send in cashier's checks, money orders, person-to-person transfers like Western Union and MoneyGram, bank wires, and the like, Bovada keeps things super simple. So simple, in fact, that many users opt to do business with different books that allow for more deposit options.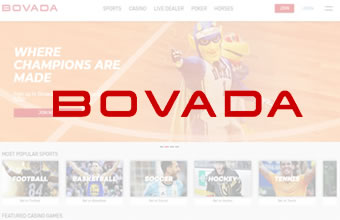 However, Bitcoin (and the altcoin market it carries with it) has been slumping lately, leading to a lot more people buying into the alternative currency model. And what is America's biggest, densest crypto market geographically? You guessed it: New York.
Given that the largest hurdle for Bovada doing business in New York was and remains the meddlesome UIGEA (or Unlawful Internet Gambling Enforcement Act of 2006), which makes it difficult to initiate banking transactions to and from offshore sportsbooks like Bovada, the online bookie – and every online bookie, frankly – stands to benefit incredibly from the widescale adoption of Bitcoin and its rival altcoins.
Another angle to consider re Bitcoin and Bovada is that the sportsbook holds a lot of its value in the digital currency. As the price per unit of Bitcoin drops, so too does the value of Bovada's stockpile. If this stock is statically held, that could be disastrous. However, Bovada is a strong Bitcoin trader, and just like an average investor will seek to "buy the dip" when Bitcoin is trading low, so too will companies like Bovada seek to get more people to enter into Bitcoin-based transactions with them during these same times. Bovada opening itself up to the New York market could be the corporate version of buying low and selling high.
Of course LegalSportsBettingSites.com knows these are just idle musings. The real (and only) notable upshot here is that Bovada is finally available to New York gamblers and sports bettors. Now, NY residents are free to sign up at Bovada and wager on athletics, bet on horses, and play online casino games and live poker tournaments, all over the Internet, 24/7. Best of all, Bovada costs nothing to join, and they've got a host of valuable bonuses to choose from for both first-time players and new .
BEST LEGAL ONLINE SPORTSBOOKS + SPORTS BETTING SITES