Caesars Entertainment And Turner Broadcasting Partnership May Change The Way We Watch Sports
Las Vegas, NV - Caesars Entertainment has teamed up with yet another key player in the sports betting world by announcing a partnership with Turner Broadcasting this week.
Turner Sports, a subdivision of Turner Broadcasting, plans to install a Bleacher Report studio within the sportsbook of Caesars Palace located in Las Vegas, NV. The programming to come from there will be centered around sports betting and will be aimed to attract new sports bettors throughout the US.
The partnership marks the first of its kind and has many people looking forward to the future of sports betting including Lenny Daniels, president of Turner Sports.
"We're excited to form this groundbreaking relationship with Caesars, a proven leader in sports gaming, as we collaborate to deliver the best gaming-related content experiences for our fans."
Why This Deal Is Huge For Both Companies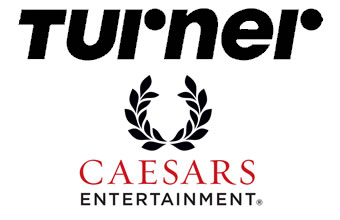 On paper, the deal makes perfect sense. Turner Broadcasting operates TBS, TNT, and Bleacher Report. TBS is home to college basketball's March Madness tournament, TNT hosts the NBA playoffs, and according to Turner President David Levy, Bleacher Report attracts more than a third of Millennial and Gen Z sports fans across the country.
Caesars has physical sportsbooks located in key states that have recently legalized the practice and betting on sports is a form of gambling that tends to attract a younger audience.
The partnership will allow Caesars to advertise its offerings and present its odds within the content produced by the studio and Bleacher Report will gain access to Caesars 55 million Total Rewards loyalty members.
This gives Caesars a chance to attract the casual sports fan to stay at one of its properties and place wagers. Turner also has a chance to gain new viewers and have higher viewing retention for each of the sports matchups it presents.
What Future Broadcasts May Look Like
Last month, NBC Sports Washington plus produced an alternate broadcast of the Washington Wizards matchup against the Milwaukee Bucks. For fans watching on that network, they were able to see both the game being played live and updated prop bet odds being presented on screen throughout the game.
Viewers were then able to login to the NBC Sports Washington website to place their bets for a chance to win 500 dollars. They had to bet on a total of 30 questions that were presented on screen one at a time. This gave a much bigger incentive to watch the game in its entirety.
The longer people watch a game means the more advertisers are willing to pay the network presenting them. The two companies have not yet reported plans to emulate this model, but based on their current assets they have the channels and an online sports wagering website to do so.
Caesars Entertainment Is No Stranger To Sports Deals
Caesars has been stretching its footprint in the sports betting market in recent months. In October of last year, the company announced two different sponsorship deals in two different leagues.
One would include a VIP area within Prudential Center, home of the NJ Devils. The other deal involves display advertisements spread throughout Wells Fargo Center, home of the Philadelphia 76rs.
Only two months after those deals, Caesars was named the NFL's official casino sponsor. The sponsorship gave the company an exclusive right to use the NFL's trademark in it's US and UK properties to attract football fans.
As legal sports betting continues to spread across the United States, more and more companies will be looking to find joint ventures to capitalize on legal sports betting sites. The Caesars and Turner partnership is only one of many to come that will change the way normal fans watch sports.
BEST LEGAL ONLINE SPORTSBOOKS + SPORTS BETTING SITES