Caesars Entertainment Selects DraftKings As Its Next Sports Betting Partner
Last month, DraftKings became the leading mobile sports betting platform in New Jersey. Caesars hopes to take this same success into its other state properties by buying a stake in DraftKings and becoming partners.
The deal entails Caesars granting online market access to DraftKings in states where the company owns properties and where state lawmakers pass legislation to allow online sports betting through a casino.
Caesars will then take in a percentage of the revenue that DraftKings is able to retain in states where the partnership is active. The deal also ensures that DraftKings will operate exclusively with Caesars in these states.
As an incentive for DraftKings, they will be able to operate five events per year at the casinos in which their partnership works.
In the joint statement, Caesars refused to mention the exact amount of their stake in DraftKings. However, seeing as how there are almost two dozen states with sports betting bills introduced this year, the deal may have effects across the country sooner than later.
Why The Partnership Works
While it may seem as though Caesars is the big winner in this deal, DraftKings also has a lot to gain. Caesars owns 42 properties in the US and range through 13 states. Each of these states holds a large sports betting market, including Indiana, Iowa, and Illinois.
All three of those states currently have bills in either their House or Senate and are in the process of potentially legalizing sports wagering. Illinois Governor J.B. Pritzker announced last week that he planned to include sports betting as part of his state budget proposal.
The partnership between the two companies would give DraftKings access to sports bettors in these states and would give Caesars the competitive edge of unveiling a mobile betting platform before it's competitors.
Other Notable Sports Betting Deals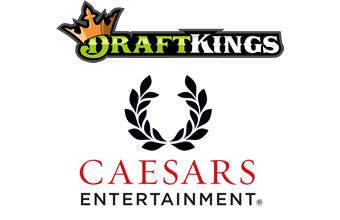 Caesars Entertainment has had a busy a few months when it comes to partnerships. Last month the company became the exclusive casino for the NFL and earlier this month they signed a deal with Turner Broadcasting, allowing them to house a sports betting studio at their Las Vegas property.
However, Caesars isn't the only casino company striking deals to gain market share of the rapidly growing industry.
Last July, MGM Resorts International collaborated with GVC Holdings to create a 50-50 joint venture. Only a month after that, Eldorado Resorts bought 20% of shares in William Hill, the largest US-based sportsbook operator. Boyd Gaming Corp. also acquired a 4% stake in DraftKings main competitor, FanDuel.
LegalSportsBettingSites.com knows as more states begin to legalize the activity, the number of deals similar to this may become more likely. Chris Grove, managing director at Eilers & Krejcik, sees this newest partnership as a head start for Caesars.
"[The Deal] gives Caesars the chance to diversify its economic opportunities from sports betting given how crowded and competitive these markets are going to be," said Grove.
BEST LEGAL ONLINE SPORTSBOOKS + SPORTS BETTING SITES