DraftKings Sportsbook Now Accepts PayPal Deposits
New Jersey's first online sports betting operator is continuing to stay on the leading-edge, with DraftKings now adding PayPal to its long list of deposit methods.
The online sportsbook launched in August with six other sites following in its footsteps. A few of these competitors began accepting PayPal before DraftKings came on board, making the gaming operator the fifth mobile betting service to partner with the payment service.
The current New Jersey sports betting sites that take PayPal are:
DraftKings Sportsbook
Caesars Sportsbook
FanDuel Sportsbook
SugarHouse Sportsbook
888 Sportsbook
Why PayPal Matters In Online Sports Betting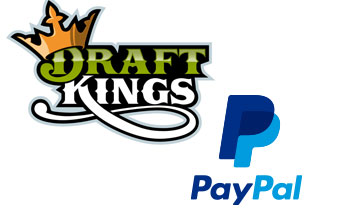 Payment options for online sports betting in the United States have always been an issue. Sports bettors that have used offshore sites like Bovada or BetOnline are already familiar with credit card deposits and getting declined.
This is due to the Unlawful Internet Gambling Enforcement Act of 2006 (UIGEA) which stipulates that U.S. financial institutions must monitor transactions related to unregulated online gaming. Credit card deposits can be flagged by your bank, requiring the payment processor to decline the purchase. This is why offshore sites have been accepting alternative payment methods such as checks, MoneyGram, and even Bitcoin, for years.
While New Jersey sports betting sites are licensed and therefore not under the purview of the UIGEA, many banks have had long-standing policies to block gambling transactions due to the existing federal attitudes toward online betting overall.
As such, banks such as Capital One, Bank of America, and Wells Fargo still have anti-gambling policies that prevent credit cards from being processed.
A report from gaming research firm Eilers & Krejcik found that the credit card decline rate was higher than 75% when NJ online sports betting launched in 2013. The current rate has improved, however, it still sits close to 50%.
This is why the addition of PayPal and other non-credit card payment methods are invaluable when it comes to internet gambling.
Best Payment Methods For Legal Online Sports Betting
Making a deposit via a credit card is still one of the preferred methods for online gaming deposits. The same research firm found that 20% of all online gambling deposits in NJ are made with cards.
The most popular way to deposit is with an eCheck, accounting for 35% of the total payment volume. This is followed by prepaid cards at 30% and drops dramatically to 5% for eWallets, 4% for PayNearMe, and 6% for other methods such as online banking or bill pay.
Right now, New Jersey is the only state with true online sports gambling. Nevada does offer mobile betting apps, and West Virginia is expected to launch mobile sports betting in the near future.
As more states begin to enter the online gambling market, LegalSportsBettingSites.com knows it is likely that additional payment services will begin partnering with sports betting operators to tap into the billion dollar revenue stream.
BEST LEGAL ONLINE SPORTSBOOKS + SPORTS BETTING SITES