Roger Goodell: Kaepernick Roster Spot Is Team Decision, Not NFL
During Wednesday's edition of the annual State of the NFL address, Commissioner Roger Goodell addressed Colin Kaepernick's lack of employment.
The former San Francisco 49ers quarterback was not hired by an NFL team for the entire 2017 season, during which time he filed a grievance against the NFL for collusion.
When asked if the league office would get involved with the matter, Goodell stood firm in his stance that the matter was not up for consideration by the National Football League.
"I've been very clear on this before that all the clubs, individually, have to make their own decisions about who's on the roster, who's not on the roster," Goodell said. "Colin, as you know, has filed a grievance, so I'm not going to talk specifically about that case. But I think that's something that the clubs have to make -- that decision. We as a league, do not get involved in that in any way. So I don't anticipate that in any way."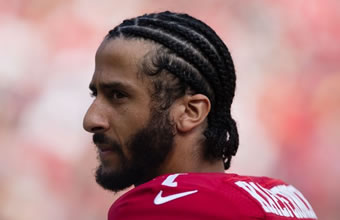 Kaepernick advocated for racial equality and social justice during the 2016 season by spurring the controversial protest of kneeling during the national anthem. The quarterback then opted out of his contract with the 49ers and has been a free agent since March 2017.
Though Kaepernick worked out with the Seattle Seahawks in the summer and was a consideration to replace Joe Flacco after he suffered a back injury, the former 49 remains unsigned.
In the 2016 season, Kaepernick had 12 starts with 2,241 passing yards, four interceptions, and sixteen passing touchdowns. Kaepernick also led San Francisco to their first Super Bowl in almost two decades during the 2012 season.
While Kaepernick's former team did not make the 2018 Super Bowl, the New England Patriots will be making their 10th appearance while the Philadelphia Eagles will be making their third. After losing quarterback Carson Wentz to an ACL injury toward the end of the season, it was reported that the Eagles had no interest in signing Kaepernick as a replacement.
Philadelphia now heads into Super Bowl LII as a 4.5 point underdog versus New England at legal sports betting sites, with the game total set at 48 ½ points per Bovada Sportsbook.
Goodell's yearly Super Bowl news conference always signals that game day is right around the corner. Super Bowl LII will kickoff at 6:30 PM ET on Sunday, February 4th at U.S. Bank Stadium in Minneapolis, MN. The Eagles vs Patriots matchup will air on NBC network.
BEST LEGAL ONLINE SPORTSBOOKS + SPORTS BETTING SITES