NHL Considering Official Sports Betting Partnership
On Tuesday, NHL commissioner Gary Bettman appeared on PodcastOne Sports Now and announced that the league would be willing to negotiate their assets given the recent changes in the U.S. sports market.
"We've historically been opposed to extending sports betting on our game, and emotionally I don't think that's changed," said Bettman. "It is a fact of life that in light of the Supreme Court's ruling, and it'll be up to states to decided whether or not they're going to enact sports betting.
This revelation comes hot on the heels of the NBA announcing their official partnership with MGM Resorts International, now their official sports betting sponsor.
In the reportedly $25 million, three-year deal, MGM Resorts will have non-exclusive rights to official NBA and WNBA data that will be used on their land-based and digital betting platforms. The agreement also gives MGM the right to use NBA and WNBA team logos and other branding.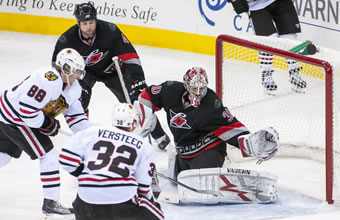 The NHL will be looking to enter into a similar agreement, with the main goal being to protect the integrity of their games and prevent fraud. MGM has stated that there is an immense value in having rights to real-time data as it instills more confidence in bettors and ensures accuracy.
Bettman expressed a similar sentiment during his interview, reinforcing the opinion that the leagues should be compensated for providing the events that will be gambled on.
"From our standpoint, we believe that, whether its our intellectual property, our data, whether its video of our game, we have important assets," stated Bettman. "If somebody is going to avail themselves or want to avail themselves of those assets in order to conduct their business, then we're going to need to have a negotiation."
The NHL has not specifically named any potential partners, however, it seems that the groundbreaking NBA-MGM deal has started a domino effect within the pro sports leagues.
BEST LEGAL ONLINE SPORTSBOOKS + SPORTS BETTING SITES