Kyler Murray Drafted By The Dolphins? New Jersey Sportsbooks Favor The Potential Pick
Oklahoma QB Kyler Murray Won The 2018 College Football Heisman Trophy
Murray Finished Last Season With A Total Of 5,362 Yards and 54 Touchdowns
The Miami Dolphins Currently Have The 13th Overall Pick
With the 2019 football season still months away, NFL bettors will soon be hungry to wager on some type of football before the first preseason snap. Those that live in New Jersey will be able to do so because several sportsbooks have placed odds for this year's draft and are favoring Kyler Murray to be selected by Miami.
The Oklahoma quarterback has become the center of attention this offseason after foregoing the chance to play baseball for the Oakland A's and instead choosing to enter the NFL Draft.
The buzz has also drawn the attention of several sports betting sites in N.J. including, DraftKings Sportsbook, BetStars, 888 Sport, and PointsBet. BetStars is showing the most confidence in Miami selecting Murray at +175 odds.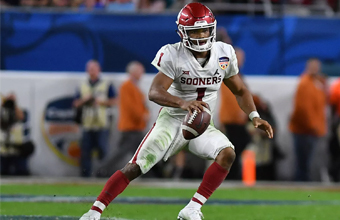 While offshore books have always offered odds for the NFL Draft, this is the first year that New Jersey sportsbooks are doing so.
FanDuel Sportsbook has yet to announce any betting lines on the event, but given the fact that they were willing to offer odds on the 2019 Academy Awards, many expect them to follow suit with their competitors.
Why So Many People Are Betting On Kyler Murray
Many would expect a Heisman trophy winning Quarterback to be a lock for a top 10 draft pick, but in the case of Kyler Murray, he may fall short of those expectations.
Murray led an electrified Oklahoma offense with 4,361 passing yards and 1,001 rushing yards himself. He also finished the season with 54 total touchdowns and a college football playoff appearance.
His ability to light up the scoreboard is unquestionable, but many teams are concerned about the quarterback's size. The Sooners football program listed him at only 5-foot-10 and 195 pounds.
LegalSportsBettingSites.com believes that this fact alone will push him out of the top 10 and NJ sportsbooks agree. Miami has the 13th overall pick in this year's draft and the franchise has still not decided on the future of their current quarterback Ryan Tannehill.
However, the Arizona Cardinals have the first overall pick and their newly hired head coach Kliff Kingsbury was caught on record last year saying that he would draft Murray first overall if given the chance.
Kliff Kingsbury with some high praise for OU QB Kyler Murray:

"Kyler is a freak.....I would take him with the first pick of the draft if I could." pic.twitter.com/aYYamjMu7o

— Eric Kelly (@EricKellyTV) October 28, 2018
BetOnline, one of the offshore providers that accepts bettors from all 50 states, has the Cardinals sitting behind the Dolphins as the most likely team to select the Oklahoma QB at +500. The same line has +333 odds at Betstars.
As more news unfolds from this year's combine these odds may change. Both teams will be on the clock when the 2019 NFL Draft begins on Thursday, April 25 at 7 p.m.
BEST LEGAL ONLINE SPORTSBOOKS + SPORTS BETTING SITES