So PASPA Is Dead And The States Can Opt To Legalize Sports Betting – What Happens Now For New Jersey?
The day long awaited arrived to much fanfare earlier this week as the Garden State won its day in court – before the US Supreme Court that is – and now, finally, at last, one of the most onerous pieces of federal anti-sports betting law has bitten the dust.
After five or so months of deliberation, the SCOTUS justices returned a convincing 6-3 majority decision ruling the Professional and Amateur Sports Protection Act of 1992 (PASPA) was unconstitutional, thereby allowing the constituent states to pass their own laws regarding sports betting. Close to two dozen states are taking the Supreme Court up on that offer and have either passed or on the cusp of passing legislation to legalize, authorize, regulate and tax the practice of placing wagers on single sporting events. As is no doubt easy to guess, New Jersey is among that number – the Garden State fought the longest to bring down PASPA (even though the law was authored by a NJ senator in former NBA player Bill Bradley), so it only makes sense that something would be in it for NJ.
That "something" is the imminent and, frankly, huge win for Atlantic City. Already the second largest gambling market in the US after Sin City itself, Atlantic City's star has fallen somewhat in recent years, and LegalSportsBettingSites.com knows adding sports betting to the gaming menu is seen as one way to put the East Coast back on the map as a gambling hub. New Jersey's location smack dab in the middle of the densest population center in the entirety of the North American continent is what made AC a destination for casino gaming in the first place, and some industry predictions have the Garden State down to develop a sports betting industry worth upward of $10 billion within a few years.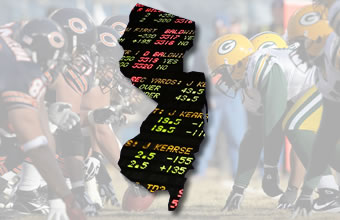 But that's all relatively long term stuff. What does the full repeal of PASPA mean for New Jersey right now? Let's take a quick look.
New Jersey passed a law to legalize wagering on sporting events all the way back in 2014 – that was actually what precipitated the case against PASPA (first as Christie v. NCAA and later as Murphy v. NCAA as the governorship changed hands). This law, of course, would not be able to take effect until (or if) PASPA was repealed, which is what just happened. Now that PASPA is no longer the law of the land, New Jersey is free to start rolling out its sports betting products, and the current proposed regulatory bill says that sportsbooks are eligible to be opened at any Atlantic City Casino and any race track facility anywhere in the state, while also making an allowance for mobile wagering options via smartphone.
Though New Jersey's statehouse in Trenton has not yet finalized its exact regulatory scheme for sports betting operators to abide by, lawmakers are quite close to working out all the kinks, and once that is done regulatory authority will be delegated to the NJ Division of Gaming Enforcement. Additionally, the New Jersey Racing Commission (which currently overseas horse racing betting activities) will have to be involved in approving a sportsbook jointly operated by a racetrack and a casino.
One of the few proscriptions contained in New Jersey's proposed regulatory law going forward is that it no licensed sportsbook in the state will be allowed to offer action of any kind of college sports events that take place in the Garden State or involve a university that is actually located in New Jersey. However, this is actually a fairly minimal worry for serious sports bettors – sorry, Rutgers, you guys are pretty much the only school from Jersey that ever gets much attention.
Finally, no regulatory plan would be complete without an idea of what to do with all those sweet sweet taxable revenues. For that purpose, the current bill proposal is calling for an 8 percent tax on gross revenue from sports wagering that goes on at casinos and racing tracks, while online sports betting revenues are looking at a tax rate of 12.5 percent.
A competing proposed regulatory bill from the NJ Senate does not deviate too much from the above stipulations except with regard to tax rates for revenues taken in by the sportsbooks soon to set up shop in New Jersey. The Senate bill bumps the rates up to 9.25 percent and 17.5 percent for brick and mortar sportsbooks and online operations, respectively.
In the meantime, all the leaders in Atlantic City are saying that the full raft of sports betting options will be up and running within a few weeks' time.
BEST LEGAL ONLINE SPORTSBOOKS + SPORTS BETTING SITES