Patriots Injuries For SB 52
Well, the Patriots' always-nebulous injury report still lists the team's two most important offensive players as question marks (the veracity thereof notwithstanding). However, news is coming down that the Patriots injuries are halfway healed for Super Bowl LII. Case in point: Of grave concern just over week ago were the 12 stitches in Tom Brady's throwing hand, right along the base of his thumb at the fulcrum of his grip. That injury, after all, was enough to cause the Jaguars vs. Pats spread to drop in the build-up to the AFC title game. However, as of Monday afternoon, those stitches are gone, and – while the wound is surely still healing – Brady should be able to secure even better ball control going into team practices leading up to Super Bowl Sunday. Unless he somehow runs into Rex Burkhead again and tears off his arm entirely, Brady will be playing this weekend. Bet on it.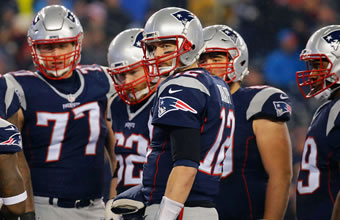 The other half of the Patriots' pressing injury issues revolve around the concussed Rob Gronkowski, who is still technically listed as "out." That said, he's been practicing hard this week, and it seems he'll be out of the NFL concussion protocol in time to get in the necessary full-pad reps and suit up come Sunday. Indeed, if Gronk is cleared in the next day or two, you can expect the Super Bowl odds to very favorably reflect his return, with the spread looking to jump between 0.5 and 1.5 points in New England's favor once everyone realizes he's ready to go. In other words, if you like the Pats on the current -4.5 spread, bet ASAP, as that might rise by the end of the week. Likewise, if you're looking for the Eagles to cover, you should probably wait as well.
BEST LEGAL ONLINE SPORTSBOOKS + SPORTS BETTING SITES