Redskins Land Alex Smith Before SB 52
In this run-up to the big game, there is precious little NFL news to displace the 24/7 media barrage that is Super Bowl Week. However, the biggest league news today comes not from one of the two teams playing on Sunday, but from one of the also-rans and one of the rarely-runs. Yep, the Kansas City Chiefs have dealt their starting QB, as the longshot Redskins landed Alex Smith Before Super Bowl 52, presumably in a bid to be relevant by Super Bowl 53.
A little over three weeks ago, as the Chiefs were gearing up to play to the Tennessee Titans in the NFL Playoffs wildcard round, there was talk (by yours truly, in fact) that – if the Chiefs didn't win – the game could be Smith's last in a KC uniform. After the Titans won that game 22-21, online sportsbook Bovada immediately posted odds on where Smith would be playing come the start of the 2018 season. The list looked like this:
Redskins +1200
Browns +1000
Giants +1000
Jets +700
Broncos +700
Bills +500
Jaguars +500
Cardinals +450
Chiefs +160
Amusingly, the longest shot on Bovada's boards turned out to be the (obvious in retrospect) landing place for Alex Smith, who just posted his best-ever season with 4042 passing yards, 26 TDs, 5 INTs, and the NFL's top passer rating at 104.7. Of course, finishing out the year by going scoreless in the second half against a seriously overmatched Titans squad was enough to make KC move on, as Smith's record in the Playoffs hasn't yet been commensurate with his regular season prowess as one of the best quarterbacks of his generation.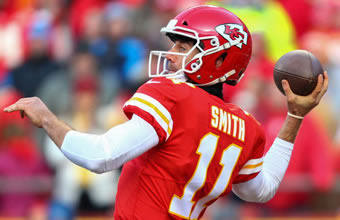 At any rate, if you'd been a member at Bovada and picked the Skins as Smith's new home when these NFL odds were posted, you'd have a heck of a lot more cash to bet with on Super Bowl 52 this weekend. Remember, Super Bowl betting isn't just about wagering on the big game – it's about building your bank roll however you can going into that game so you can take advantage of the Super Bowl's higher limits and attractive prop menus at legal sports betting sites.
BEST LEGAL ONLINE SPORTSBOOKS + SPORTS BETTING SITES