Sports Gambling Expert To Host First Ever Betting Show On Live Television
LAS VEGAS - Sports gambling in the United States has faced turmoil in recent years, its scope limited to only a few states within the U.S until last year. After the overturning of PASPA sports legalization in various states across the U.S is popping up like wildflowers after a heavy rain. Along with these legalization efforts is a whole new space for sports gambling topics.
ESPN is taking a leap themselves into this new space with their first-ever live sports gambling television show hosted by sports gambling analyst Doug Kezirian.
The Show
The broadcast will be called "The Daily Wager" and will deal with sports betting topics live on the air. The show will be broadcast at 3 pm on weekdays on ESPNews.
"At the expense of oversimplification, it will feel like 'SportsCenter' through the lens of sports betting," said Doug Kezirian, former ESPN gambling analyst in an interview. "We'll present info, stats, and opinion and hopefully have a lot of fun."
Doug Kezirian, a host with an interest in sports gambling since his early youth, has a past that has prepared him for this moment.
The Past Prepping Kezirian For The Future
A young man with an early taste for betting, Doug Kezirian placed his first wager on sports when he was in fifth grade. He later covered sports for the Los Angeles Daily News at the budding age of 15. Years later Kezirian graduated from Ivy League Brown University with a degree in economics and proceeded delve even more into the analytics of sports gambling.
The seed of curiosity spread its roots, even more, when Kezirian delved further as a sports journalist in Las Vegas. Working as a journalist further solidified his roots as a sports gambling expert and preparing him for his current work as host of the Daily Wager.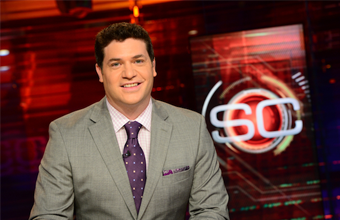 The Daily Wager And Its Impact On Television
As the first live sports gambling show on television, betting information will be readily available for any casual or hardcore gambling enthusiast. LegalSportsBettingSites.com knows the opportunity for widespread information through media heavyweight ESPNews will no doubt provide a wealth of people with well-researched information.
"Just imagine you get someone on their phone watching the ESPN games show on Sling getting their tips and then turning around with an app placing a bet on information they just saw 30 seconds earlier," said Patrick Rishe, director of the sports business program at Washington University in St. Louis.
"That audience is out there, and they are extremely engaged," said Rishe.
The Daily Wager will also air live via the ESPN app for those looking to get their information on the go. Legalized sports gambling is slowly making its way across the U.S. and The Daily Wager game show may hold a big part in that as well, engaging viewers far and wide on the once forbidden fruit that is sports gambling.
BEST LEGAL ONLINE SPORTSBOOKS + SPORTS BETTING SITES