Sports Gambling Not Likely In Three States
TALLAHASSEE, Fla. - Across the U.S. sports gambling legalization efforts are bursting onto the scene like popped kernels in a microwave. After the strike down of PASPA there is nothing holding back individual states from passing legislation to have legalized sports gambling of their own. Except themselves. Three states: Texas, Florida, and California have little to no sports gambling legalization activity.
The three states have some of the best professional sports teams across the United States, but unfortunately bettors will not be able to bet on their teams within their state anytime soon. The potential for sports gambling revenue in these states are immensely high, but legalization will be needed to take advantage of this.
The Potential Of The Three States
"These states are the brass rings given the size of the populations and the potential opportunity," said Sara Slane, a spokeswoman for the American Gaming Association.
The three states combined account for 25% of the United States population. There may be many upsides to legalizing sports gambling in these states, but unfortunately this comes with many barriers to climb over or break down.
Reasons Why There Is No Legalization Activity In: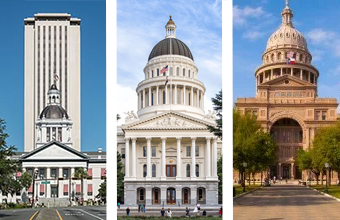 Florida
Sports gambling legalization can have its own challenges from state-to-state with various levels and degrees of difficulty on the legal side. These three states are no different.
Florida, a state known for its large number of retirees and beaches, has complications of its own in regard to legalizing sports betting. Recently the state passed into law that it will require voter approval for sports gambling to be legal.
Recently Florida voters have made successful gambling expansion in the sunshine state like climbing up a muddy hill. Last year voters decided on agreeing to Amendment 3 which would require a 60% voter approval for any gambling expansion to take place.
The Seminole Tribe, owner of 90% of the state's tribal casinos, and Disney both supported Amendment 3. Both parties want to restrict and control competitions to their own businesses in the gambling market.
California
On the West Coast, California also has tribes that are in opposition to sports gambling. Tribes that belong to the California Nations Indian Gaming Association go against the expansion of gambling as they don't want more competition at the moment.
"The tribe is not a strong advocate of legalizing sports betting under any circumstance," said attorney Howard Dickstein.
Dickstein negotiated a joint venture of MGM and online gambling company GVC to run a sportsbook at another casino resort northeast of Sacramento.
"The agreement with MGM is an insurance policy to become allied with a leader if and when it becomes legal in California," he continued.
Texas
The only hope for tribal acceptance of sports betting would be if the Indian casinos in California were able to control the market. Unfortunately, for the state that holds one-eighth of the United States population, this is not the reality right now.
The State of Texas is known for its emphasis on high-school football as well as its several professional sports teams. The state is also known for hosting three Super Bowls numerous high-level NBA and NCAA games.
Texas is not well known for its stance on sports gambling however. Many political parties in the state such as the Texas Republican Party oppose an expansion on gambling whole-heartedly. Many political members in the lone star state see sports gambling as a tax on the poor.
"Dollars don't come from the sky," said Rob Kohler, a lobbyist who is against gambling and is also a consultant for the Christian Life Commission. "They're coming out of people's pockets.
What Is Next?
The future for sports gambling in these three states are undetermined. The tribal members have strong impact on the legalization of sports gambling within these states. Most of the opposition from the tribes come from an unwillingness to compete with the emergence of more competition with their own businesses.
The three states have no current legalization activity for sports gambling and may have trouble getting through the fiery hoops in order to make legal gambling in the US a reality. For now, time will tell what will happen in each state.
BEST LEGAL ONLINE SPORTSBOOKS + SPORTS BETTING SITES