Triple Crown Betting Unaffected By Recent Supreme Court Sports Betting Decision
Horseplayers have no need to worry about their hobby being affected by the US Supreme Court's decision regarding the overturn a key federal law prohibiting sports betting.
That's a good thing indeed, seeing as today is the big day for Pimlico Downs, located just outside Baltimore, Maryland, to host the 143rd running of the Preakness Downs, the "Second Jewel of the Triple Crown." Justify, the Bob Baffert-trained colt that won the Kentucky Derby in history-making fashion, has excellent chances to become the 13th horses in history to win the coveted prize, and he will solidify his already impressive resume with a win at the so-called "Run for the Black-Eyed Susans" this afternoon. The Kentucky-born and bred Justify is currently sitting on excellent moneyline odds of -225 (courtesy of Bovada.lv) to win today's race and solid +150 odds to win the Triple Crown.
Fans of betting on horses and races have long been able to access many forms of legal wagering options on the sport of their choice thanks to the 1978 passage of the Interstate Horse Racing Act (IHRA) and its amendment in 2000. That law made betting on horse racing legal nationwide, leaving it up to states themselves to ban the activity if they wanted to, and even enabled online horse racing betting sites to operate domestically. But this simply has not been the case for enthusiasts of other sports – particularly professional and collegiate mainstays like football, baseball and basketball – which is why the SCOTUS justices' May 14, 2018, decision was such a big deal.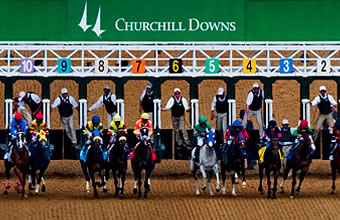 The Supreme Court ruled in favor of litigant New Jersey in its landmark case against the major sports leagues, including the NFL, NBA, NHL, MLB and NCAA, earlier this week, returning a 6-3 majority decision to overturn the Professional and Amateur Sports Protection Act of 1992 (PASPA). This law, which was – not surprisingly – hated by many state-level lawmakers for barring them from passing legislation to legalize, regulate and tax their own sports betting markets and by sports fans alike. PASPA's primary goal was to limit the spread of sports betting to Nevada and, to a lesser degree, to three other states, but there are now nearly two dozen states that have either already passed or are on the cusp of passing laws to authorize gambling operators in their jurisdictions to open sportsbooks, proof that the public's perception of sports betting has shifted in recent years.
Ironically, one of the reasons the sports wagering industry shot up in value to an estimated $150 billion - $250 billion per year was because of PASPA. Since the law put the kibosh on states offering their own legal sportsbooks to residents and visitors, individuals interested in betting on their favorite sports and teams flocked in droves to legal offshore sports betting sites based in foreign countries where US federal and state laws don't apply in the first place. That means that the overwhelming majority of those billions of buckaroos was never going to be taxed and never going to enrich public coffers back here at home, and, frankly, that fact is probably what drove New Jersey and other states to push so hard to reacquire the right to legalize sports betting nationwide.
LegalSportsBettingSites.com knows that now that PASPA has bitten the dust the states themselves can chart their own course for broader legalization for sports betting. Time will tell, but we look for many states around the country to emulate the success of the IHRA in securing a place for sports betting, just as the other law made horse racing today the exciting – and legal – pastime it is.
BEST LEGAL ONLINE SPORTSBOOKS + SPORTS BETTING SITES