What Rain Would Mean For The Kentucky Derby Favorites?
With the 144th Run for the Roses just days away, the weather forecast isn't looking as good as most horseplayers and pony fans were hoping for, and what rain would mean for the Kentucky Derby favorites isn't all that clear, as most of them have never run in wet conditions.
Friday night's 2018 Kentucky Oaks is already forecast to be rainy, with slow-moving storms passing over the Louisville area (and fueled by seasonably-warm weather, finally!). For the Oaks, the main track – which is the same track that the Kentucky Derby will be held on the next day – is listed as probable to be "muddy" or "sloppy." One of the beauties of horse racing, of course, is that it's more or less a "rain or shine" type of event, barring serious lightning over the area. The races will go on, so – if you're lucky enough to be attending the event – make sure you dress in appropriate rain-resistant attire.
While some meteorologists in Louisville are optimistic in their predictions for clear(er) skies on Saturday evening, there's a strong chance that – should rain persist overnight and into tomorrow – the 2018 Kentucky Derby will be run on less than ideal conditions. With most owners and trainers anticipating a best-case "wet fast" scenario for the track, there are horses in the event that will potentially benefit from a saturated track surface.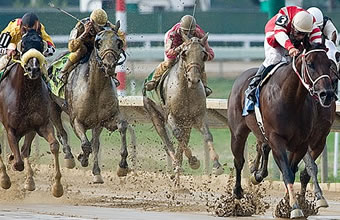 Of the 20 horses in the Derby field, eight of them have experience racing – and winning – in wet track conditions: Justify (7/2, +350), My Boy Jack (18/1. +1800), Combatant (66/1, +6600), Flameaway (45/1, +4500), Firenze Fire (66/1, +6600), Lone Sailor (50/1, +5000), Enticed (25/1, +2500), and Free Drop Billy (35/1, +3500).
With Justify already the favorite and sporting (albeit limited) experience on wet track conditions, the news of a muddy or sloppy track may not phase his camp too much. Six of the eight horses are substantial longshots to win the Kentucky Derby in normal "fast" conditions, and on a level playing field, it seems that a more endurance-heavy race will not really give them a substantial edge.
LegalSportsBettingSites.com knows the real news here is that, if the Kentucky Derby is indeed run in sub-optimal track conditions, My Boy Jack – who is built more for endurance than for speed and was already eyed by many as a backstretch contender – could benefit substantially. If the Derby soaks up the rain into Saturday, you should expect to see My Boy Jack's odds close significantly. If you're a future's bettor and you trust the forecast, then, it's probably a good idea to log onto your legal Internet racebook and lock him in at his current odds.
BEST LEGAL ONLINE SPORTSBOOKS + SPORTS BETTING SITES