Why PASPA Overturn Is Being Underreported
Consider what PASPA has cost the US taxpayer over the 25 years of its nonsensical existence. By most accounts from those in the know (admittedly going off of dramatic underreporting), US residents spend between $300 and $500 billion annually wagering on sports. Nevada, the only place in the country where sports betting is actually legal, sees a miniscule 1-3% of this handle. The rest is spent with legal offshore sportsbooks (Bovada, BetOnline, SportsBetting, etc.) or with local black-market bookies. In both of those circumstances, the money spent is untaxed on the transaction.
Further, even though the majority of that sports betting handle is returned to the customers stateside, it will almost never be reported as income (thanks to alternative currencies like Bitcoin). Those who deal heavily with offshore sportsbooks may have their holdings overseas as well, while those who do business with local bookies under the table are not reporting their cash-based spending or their cash-based returns. Couple all of the above with the fact that there is always a house take in play when it comes to sports betting, and a minimum of 10% of the cash that US bettors send overseas stays overseas, permanently.
PASPA has cost the federal and state governments of the US literally hundreds of billions – and perhaps even trillions – of dollars over the last 25 years. That is astounding, given government's reputation of passing laws to enrich itself rather than to bankrupt itself. The simple reality is that even a state like California, which carries a debt of some $430 billion, could have been operating on an annual surplus by now had it embraced legal sports betting from the beginning, and would so be putting a huge dent in its debts to date. The same is true for all states.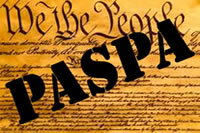 Of course, with the overturn of PASPA, this isn't to suggest that the states will suddenly wake up to the opportunity they have to finally right their sinking ships, but even a modest amount – say $10-20 billion – of extra cash in the state coffers could make a pretty big difference if managed even half-honestly, couldn't it?
Look, PASPA being overturned is a big deal. It's a huge deal. Hundreds of billions of dollars in untaxed spending are coming back under the umbrella of the US economy and US governance. Historically, that's a good thing for the American economy. PASPA's overturn, more than any other law that's been passed or repealed over the last several decades, has the potential to do tremendous economic good for the United States. (Except for, perhaps, Utah and Hawaii, who will apparently never graduate Econ 101.)
LegalSportsBettingSites.com knows the only strange thing about PASPA's elimination is that, somehow, two Supreme Court justices (Sotomayor and Bader-Ginsberg) actually believed that the law was constitutional to begin with.
BEST LEGAL ONLINE SPORTSBOOKS + SPORTS BETTING SITES