Will The Controversial Kentucky Derby Finish Mar Sports Betting Legalization Efforts?
Maximum Security's disqualification cost bettors almost $42 million in winnings.
Longshot Country House, given the win, was not a popular choice at 65-1 odds.
Maximum Security, at 9-2 odds, was the post-time favorite and commanded the most action.
LOUISVILLE, Ky. – After a controversial ending to the 145th Kentucky Derby, certain bettors were deprived of nearly $42 million in winnings, raising accusations of match-fixing.
To make matters worse, Maximum Security owner Gary West is considering filing a lawsuit against the Kentucky Horse Racing Commission, as the entity does not honor appeals of horse racing results.
In a post-race interview with the Associated Press (via NBC Sports), West called the Derby decision "the most egregious disqualification in the history of horse racing, and not just because it's [my] horse."
This Kentucky Derby controversy couldn't come at a worse time.
In what was touted as the first Derby run under expanded mainstream US sports betting, the interest in the event was at a fever pitch. It was perhaps even higher than it was last year when favorite and media darling Justify took the Derby and the entire Triple Crown in magnificent fashion.
Now, that enthusiasm appears to have fizzled, replaced by questions of transparency and forthrightness from America's oldest sporting institution.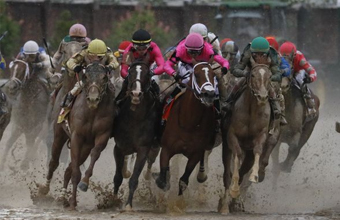 Did The Derby Decision Actually Make Money For Churchill Downs?
In the wake of the unprecedented decision to disqualify the Kentucky Derby winner, the one inescapable question facing the sport – and the entire betting industry – is whether or not there was a wagering motive in play for race host Churchill Downs.
It's true that the disqualification of Maximum Security – the betting favorite at post time (9-2, or +450) – ended up costing bettors nearly $42 million.
However, horse racing is pari-mutuel, or pool-based, and not house-banked. That means that Churchill Downs, Inc., couldn't – or at least shouldn't – actually increase their own coffers because of this (or any similar) decision.
Here's why: In horse racing betting, all money spent on any bet type goes into a pool for that bet type. For example, if 100,000 people each bet $2 on Maximum Security to win, that $200,000 is added to the pot with all other "win" straight bets.
If Maximum Security wins, those 100,000 people split the entire pot, less the racebook's take, which is a fixed percentage that comes out before all other monies are dispersed.
While Maximum Security's disqualification meant that those 100,000 people didn't get paid, the money from their wagers (and all other "win" wagers) went to those who picked runner-up Country House to win. The book makes the same amount of money in either case.
But it's not necessarily that simple.
There is a way that a result like the one for the 145th Run for the Roses could have made money for the house: exotic bets.
Take the superfecta, for example. This wager, typically sold for $1, requires horseplayers to correctly place the top four finishers in order.
Superfecta hits are rare, and in a field with 19 horses, there are 93,024 different possible winning combinations. It is conceivable – and not unprecedented – that no bettor will hit on a superfecta in such a crowded race.
By shifting the superfecta from having a favorite in the top slot, it is not out of the realm of possibility that a book could go from having to pay out the massive superfecta pool to keeping every last dime. Remember, if nobody hits on a given wager, the house keeps it all.
Is The Kentucky Derby Honest?
Fortunately, the above scenario doesn't seem to be the case here.
Per TwinSpires, Churchill Downs' official online wagering operator, the 2019 Kentucky Derby paid out at the following rates:
First place - Country House: $132.40 (win), $56.60 (place), $24.60 (show)
Second place - Code of Honor: $15.20 (place); $9.80 (show)
Third place - Tacitus: $5.60 (show)
$2 exacta/perfecta (Country House and Code of Honor): $3,009.60
$0.50 trifecta (Country House, Code of Honor, Tacitus): $5,737.65
$1 superfecta (Country House, Code of Honor, Tacitus, Improbable): $51,400.10
These numbers show that a payout has been attributed to the superfecta (and all other common exotics on the board). This means that at least one lucky bettor hit on the correct "revised" combination.
And that, in turn, means that the Churchill Downs racebook was going to pay out the same total amount of money regardless of Maximum Security's disqualification.
It appears that, at least on the monetary side, the book itself is clean. Such is certainly a relief for those concerned about shenanigans on one of the largest betting stages in the world.
Unfortunately, it might not matter.
Without understanding the nuances of pari-mutuel wagering, the average onlooker or first-time pony enthusiast will likely view the result as something less than forthright.
Given the current environment around betting in general, the controversy surrounding the Derby could be a stumbling block for states considering the legalization of sports gambling.
Allegations of match-fixing, repeated ad nauseum throughout mainstream and social media since Saturday evening, could create significant changes in current law proposals in states debating the "integrity issues" surrounding sports wagering.
Since before the Supreme Court overturned the federal sports betting ban, nearly every major US sports league has been lobbying for a so-called "integrity fee," which would see these leagues take a cut of all sports wagering revenues.
While there has been no convincing data to support the need for such a system of alleged oversight, the result of the Kentucky Derby will only embolden the leagues' requests.
The 2019 Kentucky Derby might have cost bettors $42 million, but that pales in comparison to what the controversy could cost states in their legal sports betting initiatives going forward.
LegalSportsBettingSites.com knows only time will tell how widely this sloppiest of Derby spillovers will be felt.
BEST LEGAL ONLINE SPORTSBOOKS + SPORTS BETTING SITES