BookMaker Sportsbook Review
BookMaker is among the oldest Internet sportsbooks, having been founded over 30 years ago, though it has its roots in bookmaking going back to the early 1960s, which is when site founder and industry legend Ron "The Cigar" Sacco started his life as the consummate bookie. Today, as you will see in this BookMaker Sportsbook review, the empire Sacco built is now the most trusted Internet gambling house for high rollers. Their reputation for timely payouts is unrivaled, and they're the only Internet sportsbook that will never put a wagering limit on its customers – even those who win lots of money on a regular basis. (Individual wagers all have an in-built limit, but many lesser sites will deny successful bettors the opportunity to place more than a few bets a month, which is less than ideal.).
You can read more about Sacco and his exploits all over the Internet, but the upshot is simply this: BookMaker has a pedigree that is almost impossible for other online sports betting sites to match. Its slogan, "Where The Line Originates," isn't just marketing fluff, either. BookMaker is one of the industry's most preeminent trendsetters, and countless sports wagering firms the world over simply copy the site's excellent lines rather than investing in their own processes or paying their own number crunchers.
Of course, BookMaker doesn't fight that, because the brand knows that while it has many imitators out there, none of them holds a candle to all the excellent customer service and care that BookMaker provides its hundreds of thousands of US customers every single day. Indeed, it is for this reason that BookMaker is the favored offshore sportsbook for US bettors who wish to play often and win big. BookMaker accepts members from all 50 US states, and lines are always guaranteed to have action, while withdrawals are always guaranteed to be on time and paid in full.
Best BookMaker Deposit Methods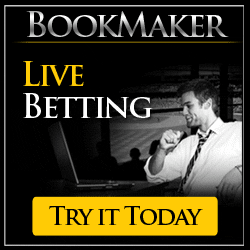 One of the main things anyone wants to know when reading a BookMaker sportsbook review is what deposit methods are offered. Fortunately, BookMaker makes things easy. There are several ways you can fund your account, but the best BookMaker deposit methods are going to be the fastest ones, i.e. credit and debit cards or cryptocurrencies like Bitcoin.
If you don't mind low deposit limits, card options are the fastest ways to get your account ready for betting, though crypto offers the best balance between timeliness and high deposit limits. You can use Bitcoin or Litecoin (or another supported cryptocurrency) to transfer funds within minutes, and with very high limits. Bank wires and money orders are also good options with high limits, but they can take several days to show up in your BookMaker betting account, so they aren't appropriate for those who wish to place wagers right away.
Bitcoin – Bitcoin is the number-one way that sports bettors are filling up their accounts, as cryptocurrencies are the future of commerce. They also have the specific added benefits of greater anonymity and not being tethered to any central bank. With no government oversight of your Bitcoin deposits, you can rest easy that your online sports betting at BookMaker remains private and secure. BookMaker accepts more cryptocurrencies than any other top sportsbook site, with nearly 50 supported coins and tokens.
Minimum: $10
Maximum: $25,000
Processing Time: Minutes
Fees: None
Credit Cards – Credit cards accepted at BookMaker include Visa, international Visa gift cards, Mastercard, and American Express. For most sports bettors, credit cards will be the primary funding option, due to the ease of use and accessibility that such payments offer. Your bank may charge an added fee for using credit cards.
Minimum: $50
Maximum: $999 (Mastercard), $2,500 (Visa)
Processing Time: Instant
Fees: Varies by bank (typically 3.5%-10%)
Person to Person – Person to person services like Western Union, Ria, and MoneyGram are supported, and you can make your deposits online or in-person at retail outlets supporting these payment providers (grocery stores, convenience stores, gas stations, etc.). If you already use these services, there is no learning curve, but be warned: Person to person transfers are among the most expensive ways to get money into your BookMaker account.
Minimum: $100
Maximum: $2,000
Processing Time: 3-5 days
Fees: $7 online, $14 by phone, fees waived for deposits over $300
Bank Wire Transfer – Bank wires are best for high rollers (though Bitcoin shines in that arena, as well). Bank wires usually have small processing fees, and while they can carry a high minimum limit, they have no maximum limit whatsoever!
Minimum: $2,500
Maximum: None
Processing Time: 3-5 days
Fees: Varies by bank
Best BookMaker Payout Options
The next most important thing potential members want from a BookMaker Sportsbook review is comprehensive information about withdrawals. Well, when it comes to claiming your winnings, BookMaker makes things as easy and streamlined as possible. While you cannot receive your withdrawals as credit or debit chargebacks (this is true for all online sportsbooks, thanks to the meddlesome UIGEA banking law), you can claim your cash in a number of ways. The best BookMaker payout options are to request your funds via supported cryptocurrencies like Bitcoin, Litecoin, and others (which are regularly added to the stable, so be sure to call the site's cashier service to inquire if you don't see your favorite coin listed). These carry high limits (up to $25,000) and transfer within hours.
Alternatively, if you're willing to wait, BookMaker offers a number of more traditional withdrawal methods, such as bank transfers, money orders, courier checks, and so on. Just keep in mind that it often takes payouts like this up to two weeks to reach you here in the US. The maximum amount of money you can withdraw via money order or courier check is $3000, while bank wires typically allow you to take out $10,000-plus at a time.
BookMaker Sports Betting Bonuses And Perks
BookMaker offers several sports betting bonuses and perks that change during the course of different sporting seasons, though you can only activate a single bonus at a time, and you must be sure to keep the rollover requirements in mind. The following BookMaker bonuses are the most commonly-accepted among the site's membership, and these should be of most interest to those looking for an honest BookMaker sportsbook review:
15% Cash Welcome Sports Bonus – This bonus will match your initial BookMaker deposit by 15%, up to $2,500 with only a 3X rollover rate. You just need to enter the promo code JOIN15 to claim the bonus.
Refer-A-Friend Bonus – If you refer a friend to BookMaker, you can earn up to $500 in free-plays credited to your account. The amount you earn is based on how much money they initially put into their new account. There is no limit to how many people you can be rewarded for in helping to sign up.
BetPoints Program – BookMaker's BetPoints program is available to all new and existing members. You'll start accruing BetPoints for every wager you make, and you can redeem these tiered points for cash, gift cards, frequent flier miles, all kind of merchandise, and even use them to receive free, no-fees payouts.
Sports Supported By BookMaker

This BookMaker sportsbook review wouldn't be worth much if it didn't discuss the slew of different sports supported by BookMaker. Fortunately, the service boasts one of the biggest betting menus in the business. The following national and international sports and entertainment events are just some of those offered by BookMaker:
| | | | | |
| --- | --- | --- | --- | --- |
| NFL | MLB | NBA | NHL | MLS |
| NASCAR | Formula 1 Racing | Tennis | Golf | Horse Racing |
| Rugby | MMA | Boxing | Cricket | Soccer |
| Politics | Oscars | Grammys | Reality TV | |
Betting Types Available At BookMaker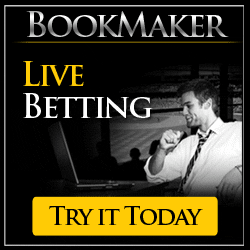 In addition to the sheer number of sports and events you can wager on, there are several betting types available at BookMaker, as well. You can place point spread bets, straight moneyline bets, totals (aka over/under) bets, player props, team props, game props, specials, futures, pleasers, teasers, parlay bets, and more. On any given day, you will have literally thousands of wager options at BookMaker – and that's before you add live betting to the mix, which adds thousands of more daily wagers. The most popular bet types at BookMaker are explained below:
Point Spread – The point spread is a very popular wager type, and it involves handicapping the perceived better team by "taking" points from the favorite and "giving" them to the underdog. A favorite will be shown on the point spread with a negative number, while the underdog will be shown with a positive number. Example: Team A -5.5 at Team B. Here, the Team A is favored by 5.5 points, meaning they must win by at least 6 to win the bet. Team B, in this scenario, has a spread of +5.5, which means they can lose by up to 5 points (or win outright) and win the bet.
Straight Moneyline – This is the easiest bet type. Straight moneylines show how much you have to spend to receive a given amount if your bet wins. If the moneyline is a negative number, that shows how much must be wagered to win $100. If the moneyline is a positive number, that shows how much can be won on a bet of $100. Favorites will carry negative moneylines, while underdogs will carry positive moneylines.
Totals – Totals bets are based not on which team wins or loses, but on the combined points scored between both teams. BookMaker will assign a totals figure to a given game, and you bet whether or not the combined score will go over that number or stay under that number. For this reason, totals bets are also often called over/under bets.
Props – Prop bets are wagers that concern individual performances or team stats accrued during a given matchup. You can place player prop bets on a host of different things, from how many TDs a QB will throw to how many assists a winger will tally. Team props include things like total yards gained from scrimmage, the number of errors committed in a contest, how many threes a team will make, and more.
Parlay – Parlays are when you combine wagers into one big bet. For example, you can bet that Team A, Team B, and Team C all beat the spread. This is a three-bet parlay, and in order to win, all of the constituent bets have to win. If you lose any leg of a parlay, you lose the whole wager. BookMaker offers all kinds of parlays, allowing you to mix and match bet types and even wager across multiple sports on a single ticket.
BookMaker Mobile Betting App
While no legal offshore sportsbook has an "official" iPhone betting app or Android betting app (thanks to restrictive Apple and Google policies on their monopolized platforms), you don't need a BookMaker app to enjoy BookMaker mobile betting. Because the site has been optimized to work with all common mobile devices, all you need to do to get a mobile-ready, streamlined, one-tap wagering experience is visit BookMaker on your wireless device of choice. As long as it has a modern browser, you can be betting in seconds, no matter where you are.
Even better, because of the added security that mobile devices have over traditional desktop and laptop systems, using BookMaker via mobile is even safer than typical computer methods. Convenience and confidence – if that doesn't describe BookMaker, nothing does!
BookMaker In-Game Betting
In addition to mobile betting, BookMaker is also one of the industry's pioneers of live, in-game betting. Unlike traditional wagering where you have to make sure to have your wagers in before the action officially gets underway, BookMaker in-game betting allows you to wager on any contest while its actually being played, in real time! This means that you can bet on football snap by snap, you can wager on baseball pitch by pitch, and you can put money on basketball lines and props with every possession. Live betting adds hundreds of wagering opportunities to every single game of the season, and that means you have more chances to win. Way more.
BookMaker FAQs
Is BookMaker legal to use in my state?
Yes, BookMaker is 100% legal to use in your state, and the site accepts members from all 50 US states.
Can I be arrested for using BookMaker?
No US citizen or resident has ever been arrested for using BookMaker. While there are some anti-gambling laws in place at various state levels and at the federal level, none of them explicitly penalizes individual bettors from placing wagers over the Internet at offshore gambling sites like BookMaker.
How much does it cost to sign up at BookMaker?
It costs absolutely nothing to sign up at BookMaker or to use any of their industry-leading wagering services (like mobile betting and live betting).
What is the minimum age for people to join BookMaker?
You must be 18 years of age in order to join BookMaker. However, if your state has explicit sports betting laws requiring bettors to be 21, you should defer to those laws. Any BookMaker sportsbook review that tells you to ignore your state's mandated age limits is doing you a disservice. Stay legal and stay safe!
How do I use Bitcoin?
Bitcoin is easy to use. All you need to do is convert your US dollars into Bitcoin by using the services of a site like Coinbase. Then, you simply fill out the appropriate numbers on BookMaker's cashier page in the deposit section and transfer the funds. No banks, no fees, no nonsense! (If you need step-by-step instructions, BookMaker has a convenient primer you can find through the site's FAQs).
Should I accept the bonus?
You should only accept the bonuses offered at BookMaker if you intend to stay at the site and regularly wager over longer periods of time. Because of rollover requirements, bonuses are not ideal for casual bettors who only put a few dollars on a few events here and there. Bonuses are also not ideal for bettors who need their payouts regularly to help pay for day-to-day expenses.
What is rollover?
"Rollover" is what the online sports betting industry uses to determine whether or not you meet the requirements of a given bonus. Each bonus comes with a rollover amount, usually a multiple of the sum of your deposit and the bonus itself. Let's say you deposit $1000 and get a 15% bonus with a 5X rollover. This means that your total deposit – including the bonus – comes to $1150. Because the rollover is 5X, you must wager a total of 5 times that $1150 amount, or $5750. That might seem like a lot, but if you regularly put your winnings back into your new wagers, it'll add up pretty quickly, and you should have no trouble meeting the requirements.
Where is BookMaker located?
BookMaker legal sports betting site is located in San Jose, Costa Rica, where it is fully licensed and regulated by the country's government. BookMaker is a 100% legitimate company, and you can trust them to take care of you for the life of your membership.
Will BookMaker report my winnings to the IRS?
Absolutely not. However, even though BookMaker will never report your winnings to the IRS, it is incumbent on you to report your winnings to the government. Remember, once your payouts make it to US shores and are processed by US banking institutions, Uncle Sam will have no trouble auditing your accounts and finding that cash. Sports betting is risky enough as it is – there's no need to risk your entire bankroll just to save a few bucks. Take it from the best BookMaker sportsbook review on the Internet: Always pay your taxes!
OTHER LEGAL ONLINE SPORTSBOOKS + SPORTS BETTING SITES